March, April & May 2019 – Meet your IoT Software co-pilot
The rate of innovation in IoT is rapid, and a product design/development co-pilot like Witekio can help you stay ahead.
You have an IoT innovation idea in mind, but you struggle to find a concrete IoT software co-pilot to help you define the best architecture and technologies for your solution?
You want to launch a new solution, but you keep wondering:
Did I identify well my customers' true motivation to use and buy my product?
Who are truly the final users of my solution?
What are my 3 main product scenarios that will guarantee consumer adoption of my solution?
How do I test my innovative product?
That's the right timing to meet Witekio, your next IoT Software Co-Pilot during 2 dedicated IoT upcoming events in France.
Get the unique chance to benefit from personalized UX and System Design 15 min workshops handled by our IoT and UX experts.
What can you expect from these workshops?
Make the right software choices for the success of your project 
A true and detailed consulting approach allowing you to either discover or confirm the main key technical points of your solution, from the hardware choice up to the global architecture of your design.
Is it better to design a full custom embedded software solution based on a standard CPU or to start a project with a SOM? What are the advantages and drawbacks of these two options?
Does my solution require a Cloud Connectivity? So, which Cloud solution to go for?
What kind of OS should I use to perfectly and seamlessly launch any application from my device?
What is the most suitable technology to develop an application that can run both on iOS and Android?
Which connectivity technology to chose based on my product's technical requirements? LoRa, Sigfox, Bluetooth Low Energy, RF?
Meet your market through dedicated UX consulting applied to product development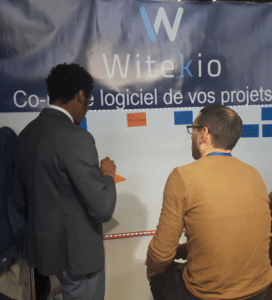 Did you know that UX Design reduces the development of a project by an average of 50%? Before developing, investing time, resources and energy, you must think customer first! The advantages provided to the user by an effective and efficient product, always mandatory qualities, are no longer enough. The product must nowadays offer the customer benefits in terms of emotions, values and experiences.
How to define the real final users of your solution?
How to select and interview those final users?
How do I test my innovative product?
Do you know what stands behind ''Story Board'', ''Story telling'', ''Hope & Fear'' ?
Come with software challenges, fly back home with tangible and useful knowledge shared by Witekio, your IoT Software Co-Pilot
Embedded Systems                       

MARCH 20-22 - PARIS- 
 

STAND C24

 

 

 


Our sessions

03/20/2019 -11:00 - 12:00
Edge Computing and decentralized AI



03/21/2019 - 14:00- 15:30
Deploy, supervise, maintain and update a large number of connected objects



SidO                        

APRIL 10 & 11  - LYON- 
 

STAND E101

 

 

 


Our sessions

04/10/2019:
Smart City - Choosing and building Networks
Register for this session

04/11 - 09:00- 09:45
New user experiences & adoption prospects and hurdles to overcome.
Register for this session

04/11 - 16:15-17:00
Agile Methodology: Key success factor for innovative projects?  Nemeio, the first customizable keyboard, a concrete case study.

Internet of things World                        

May 13 & 16  - Santa Clara,CA- 

STAND 743

 
Witekio, Software Co-Pilot for L'Oréal Beauty 2.0 solution!  
Do you know what makeup, an Ipad and a cross platform application developed with Xamarin have in common? Discover how Witekio collaborated with L'Oréal, a customer we met during SidO 2016, on their latest Beauty 2.0 solution. This project is a true example of Witekio's system consulting, UX design, software guidance and development success,